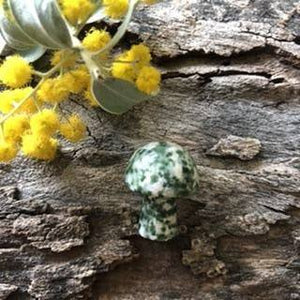 Tree-Agate is an excellent choice for a personal talisman. It will help your body build physical, emotional, mental, and spiritual strength. Tree-Agate is a stone that encourages inner peace. Your concerns will subside and your body will relax once you hold this stone in your hands.
It will make deep meditation extremely simple for you, and you will be able to block off the commotion and noise of your surroundings.

Tree-Agate will also assist you in dissolving your egoism and hubris.

It will assist you in achieving equilibrium and stability in all areas of your life.
Approximate Weights and Measurements 
Weight - 5g
Measurements - 1.8 x 1.5cm
Mushrooms are intuitively selected