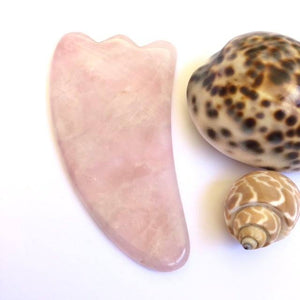 Rose quartz smoothes wrinkles and enhances skin suppleness, giving your face a radiant shine and allowing serums or creams used in conjunction with the roller to penetrate deeper.
Our gua sha Rose Quartz Facial Sculptor was created to bring out your natural beauty by boosting circulation while de-pumping, elevating, and contouring your face. Rose Quartz is a stone that is both beautiful and therapeutic.
Gua sha on the chest with rose quartz is beneficial because it tones the heart qi. "It's thought that rose quartz's qualities aid in skin cell regeneration and the improvement of uneven or dull skin complexions. That may be accomplished simply by placing a crystal against your skin and absorbing its characteristics."
Weight - 52g
Measurements - 9 x 4.5cm