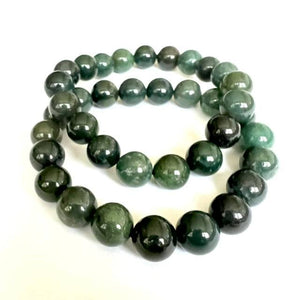 Green Moss Agate is a lovely dark forest green stone that is prized for its mystical qualities. Because of the protection and direction it gives, this stone has been around for ages and is still popular today. Moss Agate's metaphysical properties include emotional sensitivity, which can aid empaths in detecting other people's feelings more vividly. It provides the holder of this gemstone serenity, tranquillity, and contentment while also promoting creativity and lowering stress.
Green Moss Agate 10mm Bead Bracelet on elasticated string.
Being a natural stone colours in beads vary in each bracelet.