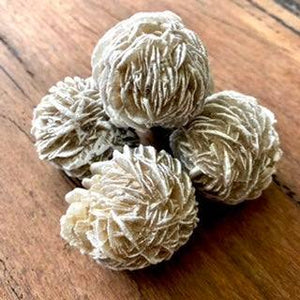 Desert Rose can aid with nausea and travel sickness. It can also help in the treatment of prostate-related issues. This stone can also help to prevent or repair viral infections. It has the ability to strengthen bones and aid in the treatment of muscular and skeletal problems.
Desert Rose is essential in your life since it provides mental clarity.

The healing energies of Desert Rose will assist you in making sense of things if you're going through something that's giving you bewilderment or muddled thoughts.

It's also a great stone for meditation. It will assist you in connecting with your higher self and entering a more profound state of meditation.

This stone is a powerful third-eye activator, and it will assist you in bringing your clairvoyant abilities to the surface. This stone's energies will also help you to improve your inherent intuition.

It will help you remember your former lives and dreams. It will also enhance your vibrations, allowing you to work with your guardian angels and experience white light! 
Approximate Dimension and Weight
Product Weight: 30g
Diameter: 3.4cm