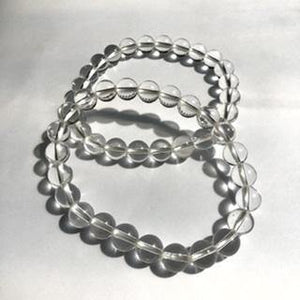 Clear Quartz provides energy, clarity, and positive vibrations for all of life's endeavors. It is a great stone for meditation, healing, and harmonizing the energy in ones environment. Clear Quartz allows for an easy release of negativity and is often used to purify the body, mind, emotions and spirit.
Clear Quartz can be programmed like any other crystal or gemstone to provide the wearer or user with needed energies. Clear Quartz is considered by many to be a universal power stone that isn't limited in application regarding religion or spiritual 'path'.
Clear Quartz 8mm Beads on elastic thread.